How do you plant seedlings with the TYM Rice Transplanter Riding Type?
Navigate paddy fields for faster planting across different types of wet soils
Use its automated mechanisms that transplant seedlings across several rows at once
Properly engage its HST lever and long feed belt features
When it comes to achieving precise and efficient planting of diverse seedlings, the TYM Rice Transplanter Riding Type emerges as an indispensable tool for farmers. Leveraging its cutting-edge functionalities and advanced capabilities, this state-of-the-art machinery provides a reliable solution for seamless planting across various fields, ranging from moisture-laden soils to expansive paddy fields.
However, mastering the correct techniques and adhering to essential precautions is paramount when utilizing this agricultural equipment. This guide discusses how to plant with TYM Rice Transplanter Riding Type, which in return helps farmers achieve optimal crop planting results while maintaining safety standards.
Navigate Paddy Fields for Faster Planting across Different Types of Wet Soils
The TYM Rice Transplanter Riding Type has been meticulously engineered to navigate challenging paddy fields and facilitate expedited planting in diverse wet soil conditions. Its purpose-built design ensures unparalleled efficiency and precision throughout the entire planting process.
However, prior to commencing the planting operation, it is imperative to thoroughly evaluate the field's condition, particularly the soil moisture levels. This critical assessment mitigates the risk of encountering obstacles or uneven terrain that could potentially impede the equipment's performance and compromise stability during operation.
Boasting a robust engine and an impressive planting speed of 1.81 m/s, this transplanter enables swift movement across the field, significantly reducing planting time. By streamlining the planting process, farmers are spared unnecessary stress and fatigue, empowering them to optimize their crop planting endeavors.
With the TYM Rice Transplanter Riding Typee at their disposal, farmers can confidently engage in planting activities without the looming concerns of potential risks that may arise throughout the planting season. Harness the power of this innovative machinery and elevate your planting capabilities to new heights.
Use its Automated Mechanisms that Transplant Seedlings across Several Rows at Once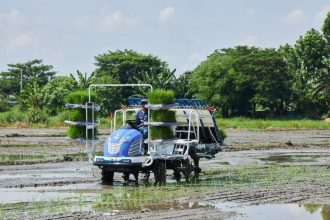 The TYM Rice Transplanter Riding Type leverages the capabilities of its automated mechanisms, revolutionizing the transplanting process by seamlessly handling multiple rows of seedlings simultaneously. Powered by its cutting-edge design and state-of-the-art technology, this advanced equipment offers unparalleled efficiency and precision.
Employing a rotary planting method and customizable planting spacing, this transplanter ensures the consistent and uniform placement of seedlings. This synchronized growth pattern optimizes crop development and facilitates efficient cultivation. By harnessing the potential of this innovative machinery, farmers can elevate their planting processes, paving the way for enhanced productivity and yield.
Here are the Rice Transplanter Riding Type's planting specifications for each model:
| | |
| --- | --- |
| Planting specifications | PRO600 |
| Transplanting method | Rotary |
| Row spacing | 300 mm |
| Transplanting row | 6 |
| Transplanting depth | 1.2 cm ~ 4.8 cm |
| Transplanting speed | 1.4 m/s |
| Work efficiency | 10 min/10a |
Note: Product specification is subject to change without notification for improvement.
Properly Engage its HST Lever and Long Feed Belt Features
Two of the best features of the TYM Rice Transplanter Riding Type are the HST lever and long feed belt. The HST lever provides farmers with the ability to increase the equipment's engine RPM, which results in improved power and performance of the transplanter.
Additionally, its long feed belt, equipped with an electric slide, guarantees consistent seedling replacement, which helps farmers make their planting process easier.
Benefits of Using the TYM Rice Transplanter Riding Type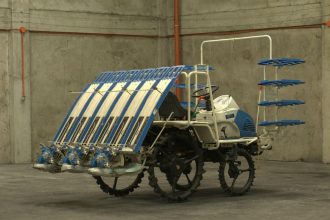 Finally, the TYM Rice Transplanter Riding Type is designed to streamline and expedite your transplanting tasks with its impressive array of features. This equipment incorporates the best-in-class attributes that contribute to its effectiveness as a reliable farming companion:
High-Efficiency Diesel Engine
With a focus on reliability and efficiency, the TYM Rice Transplanter Riding Type is equipped with a robust diesel engine that ensures consistent and extended operation without compromise.
Large Capacity Fuel Tank
The generously sized fuel tank ensures an ample fuel supply, enabling you to work for longer periods without interruptions for refueling, maximizing productivity.
Wide Side Step
The widened cabin floor of the TYM Rice Transplanter Riding Type is thoughtfully designed to accommodate the operator's movements, facilitating easy access to seedlings during the planting process, and enhancing efficiency and workflow.
Key Takeaway
By learning how to plant with TYM Rice Transplanter Riding Type, farmers can take advantage of this powerful and efficient equipment for planting seedlings. Its advanced features enhance your planting process, which results in increased productivity, maximized crop field, and increased profit.
If you're looking for high-quality farming equipment in the Philippines, you're in the right place! Ford Tractor Philippines is the exclusive distributor of some of the best farming equipment brands worldwide.
To request a quote, send us a message here.